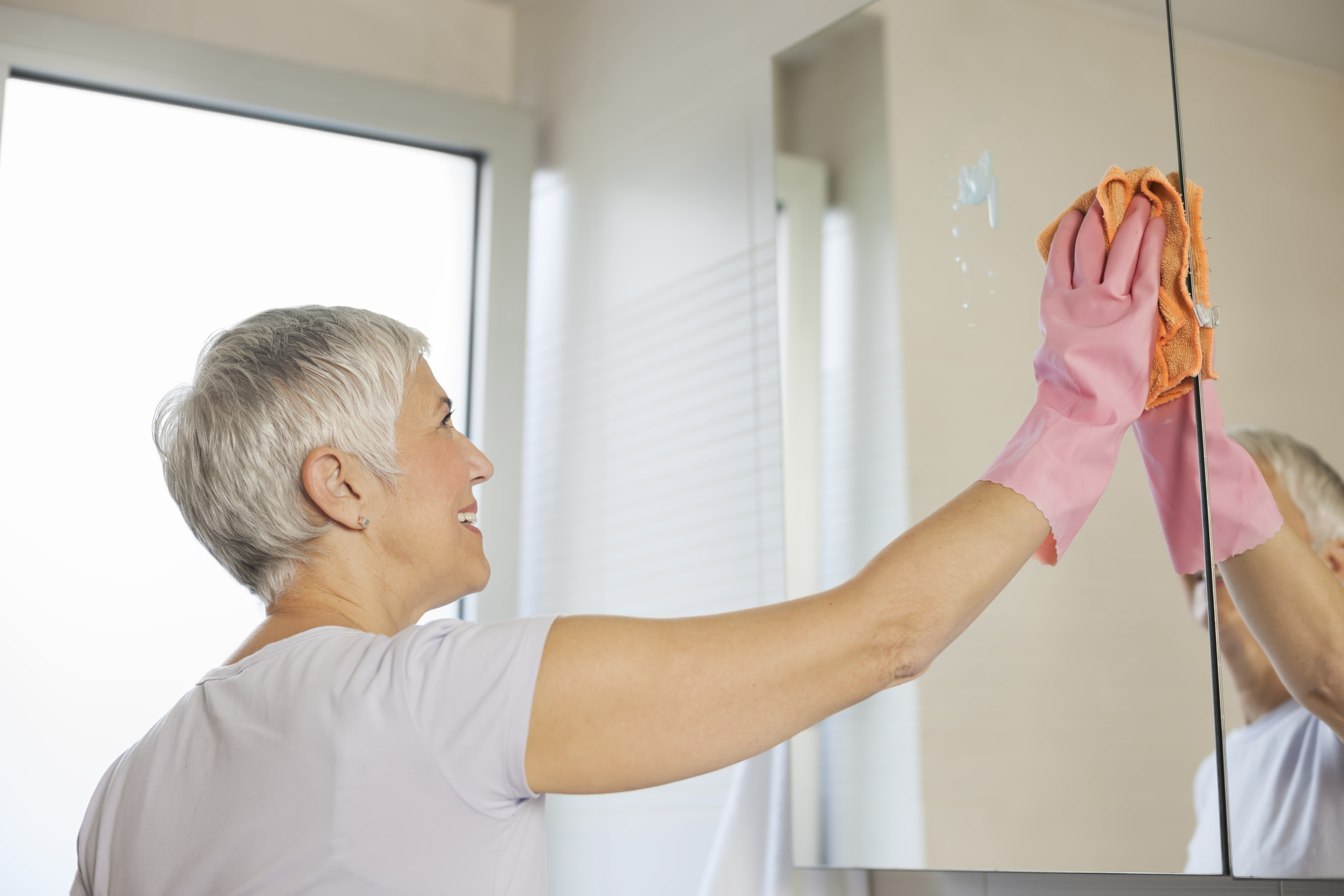 Bathroom mirrors can be difficult to keep clean with so many things working against you, like toothpaste specks, water spots, and fingerprints. If you've ever tried to get a spotless shine when cleaning your mirror, you know that it's easy to end up with lots of streaks.
Below are the steps you need to take to get a clean bathroom mirror every time.
1. Spot Treat With Rubbing Alcohol & a Cotton Pad
The best way to remove tough stains and spots like toothpaste globs, hairspray, or smeared fingerprints is to use rubbing alcohol.
Other sprays and cleaners will just smear these spots, but dabbing a bit of rubbing alcohol on a cotton pad to treat those areas before wiping down the entire mirror will leave you with a streak-free mirror.
2. Spray a Vinegar & Water Solution
While you can use a glass cleaner that you already have, we recommend making a solution of one part vinegar and one part distilled water.
Not only is this mixture easy to make, but it also prevents streaking from excess soap you find in many store-bought sprays.
Spray a light layer of the solution directly onto your mirror. Avoid spraying too much, which would cause the solution to drip off your mirror.
3. Wipe Clean With a Microfiber Cloth
While many people turn to paper towels to clean glass, they can make things worse, as they often leave behind dust, residue, or lint.
We've found that the best way to truly clean glass is to use a high-quality, flat-weave microfiber cloth. It cleans effectively without being thick enough to collect lint or other particles that could be left behind on the mirror.
Start in the top left corner and slide your cloth straight across to the top right corner and back again, making your way down to the bottom of the mirror.
4. Inspect for Streaks
Look at your mirror from a few angles to ensure it's completely clean.
If you notice any streaks or spots, spray a small amount of your vinegar and water solution directly on the imperfection and wipe it clean. Your mirror should be spotless!
Trust Len The Plumber for Your Bathroom Plumbing Needs
Effectively cleaning your mirror is just an aspect of creating a clean, functional, and welcoming bathroom environment. The professionals at Len The Plumber can help with the rest.
When you face a problem with your bathroom plumbing, like an overflowing toilet, leaky faucet, or clogged drain, we can provide a quick and effective solution because we offer same day service, seven days a week.
For all your bathroom plumbing repair, replacement, or routine maintenance needs, trust the experienced team at Len The Plumber. Call us at (800) 950-4619(800) 950-4619 or contact us online to request service in MD, DC, VA, NJ, PA, and DE.